ANNUAL MASS INDUCTION HELD
Pasay City East High School held its Annual Mass Induction on September 18, 2019 at the Audio Visual Room led by Mr. Peter R. Cannon III and Mr. Rouel Santero, Asst. Principal II of the Senior High School with the department heads, the club advisers and officers.

             Cannon Jr., inspired the young leaders to be humble, responsible and respectable in his welcome remarks. He reiterated that leaders must be role models both in words and deeds.
The program started with the singing of the National Anthem followed by the Doxology led by selected Grade 10 students, then the Pasay March.
Supreme Student Government President, Rodlyn Somera of Grade 10- Nakpil, emphasized how young leaders can become instruments of change and be the leaders of a great tomorrow.
Grade 10-Rizal's "Sync-o" left a message about leadership meant to inspire and motivate future leaders.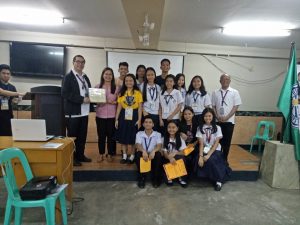 Mr. Cannon Jr. And Mr. Santero led the oath taking ceremony with the department heads.
Science Club, Filipino Club, The Fawn, Rotary, Math Club, Red cross, Silangan dancers, Book Lovers' Club, Ang Libay, English Club, YES-O, BERT,  Boy scouts, Girl scouts, Supreme Student Government, CIC, Barkada Kontra Droga, WINS, Eco-Savers are all well represented by the club advisers and the club officers.
The ceremony ended with the community singing of "Sama Sama"led by the masters of ceremonies Matteo J. Barron and Janna Ysabelle Barbacena of Grade 10-Rizal.   By: Helen G. Dimafelix