EMELIE T. ESQUIVEL
            Science department held a Technology Fair 2019 to continue to offer learners an avenue to hone their knowledge and skills in Science with the theme "Reinventing the Future Advancing Communities Through Science, Technology and Innovations".
            A kick off opening program was last September 2, 2019 led by teachers and the Science Club officers led by Ms. April May Z. Tomagan as their adviser.
            The following activities were conducted:
Activity

Date

Winners

Facilitators

Poster Making

September 4-5, 2019

1st Place- Karlo Ticman

2nd Place- Eric P. Gaspar

3rd Place- Resty E. Pacaanas

Mrs. Lourdes C. Sanchez

Mr. Eduardo C. Orense

Slogan Making

September 6, 2019

1st Place- Alieza Mei Mier

2nd Place- Karyll S. Duetes

3rd Place- Randy s. Vizcarra

Mrs. Criselda Y. Pevida

Mrs. Eleomar F. Paligar

Science Hugot

September 9, 2019

Margarita Jane Trinidad

Ms. April May Z. Tomagan

Essay Writing

September 10, 2019

1st Place- Sher John Vega

2nd Place- MariamneYasmin E. Yap

3rd Place- Shiela Mae Acedera

Ms. Esther Ariem

Mrs.  Lovely Postigo

Extemporaneous

Speech

September 11, 2019

1st Place- Arvin Carlo M. Senador

2nd Place- Margarita Jaice M. Trinidad

3rd Place- Mark Angelo A. Bautista

Mr. Eduardo Orense

Mrs. Maria Isabel C. Forte

Quiz Bee

September 12-13, 2019

Grade 7

1st Place- Aluen I. Carreon

2nd Place- Angelica Besa

3rd Place- Lance Richmond Vargas

Grade 8

1st Place- Jeeros Karl L. Sabio

2nd Place- Francheska Nicole E. Dulva

3rd Place- Dean Joffer Gonatise

Grade 9

1st Place- Marc Jodel Lumactod

2nd Place- Numan C. Alam

3rd Place- Kimuel D. Diaz

Grade 10

1st Place- Trisha Jay B. Magtibay

2nd Place- Arlan C. Solomon Jr

3rd Place- Jerome C. Juego

Grade 7 Biology Teachers

Grade 8 Earth and Space Teachers

Grade 9 Chemistry Teachers

Grade 10 Physics Teachers

Explore the World

September 16-18, 2019

1st Place- Grade 9 Sampaguita

2nd Place- Grade 10 Tavera

3rd Place- Grade 10 Rizal

All Science Teachers

TugSciYawan

September 19, 2019(Elimination)

September 23, 2019 (Final)

Champion- Grade 10 Rizal

1st Place- Grade 10 Nakpil

2nd Place- Grade 8 Mangga

3rd Place-  Gracde12 Taurus

All Science Teachers and Science Club Officers

Science Idol

September 24, 2019 (Elimination)

September 27, 2019

1st Place Jaime NY Collei Ubina

2nd Place- Abigail Caaballero

3rd Place- Mariz Espanola

All Science Teachers and Science Club Officers
            The highlight of the fair was the Science Idol wherein the participants showcased their favorite scientist, wore a costume using recycled materials and explained the invention of their impersonated scientist.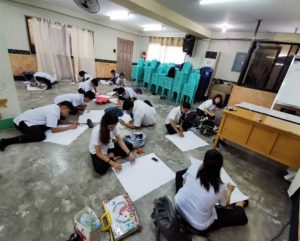 Poster Making Contest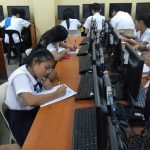 Essay Writing
Extemporaneous Speech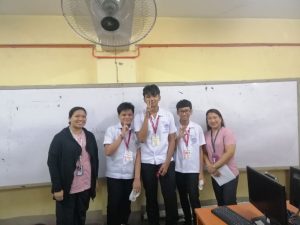 Quiz Bee Contest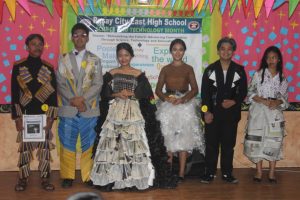 Science Idol