Trinidad wins 1st Place in the 40th DSSPC
           Margarita Jaice M. Trinidad of Grade 9-Sampaguita won 1st place in the News Writing Category during the 40th Division Secondary Schools Press Conference held September 5-7, 2019 in Jose Rizal Elementary School.
"I am so happy I made it. It was unexpected. I promise to do my best in the regional contest," she quipped.
Trinidad, together with the other scribes from "The Fawn" competed against participants from the public and private high schools in the division of Pasay. Being in the Top Ten, they will all compete in the Regional Secondary Schools Press Conference in October, 2019.
The six "The FAWN" writers who bagged awards in the DSSPC are "Timithy Jaim Q. Parrucho, 3rd place-Feature Writing; Swamyll Swaminathan, 4th Place-Science and Health Writing; Xian Amiel R. Egneo, 4th Place-Sports Writing; Karlo C. Ticman, 4th place-Photojournalism; & Francheska Winona R. Asinas, 5th Place-Editorial Writing.
Nathaniela Bendian, was chosen as the Best Feature Writer in the group category, Collaborative and Desktop Publishing.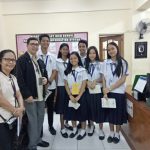 Mr. Peter R. Cannon, Jr., Principal III of PCEHS, congratulated all the writers and gave them advice and points to remember in improving their craft essential in winning a competition.
Cannon reiterated that winning in the division contest is not the end of the struggle; that it is just the beginning, because a tougher competition awaits them in the coming 41st Regional Schools Press Conference where more than 200 contenders from different private and public schools in the National Capital Region will vie for the most coveted First Three Slots in every category to qualify for the National Schools Press Conference. By: Helen G. Dimafelix